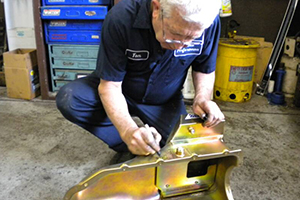 Words From Tom:
My automotive career started by sweeping my father's shop in the third grade. By age 11 I was working on lawn mowers for customers.
I grew up in Yates Center, Kansas, 100 miles east of Wichita. I lost my father at age 11 and my mother continued running an auto shop and parts store. When I was 19 I decided to come to Wichita and work at Boeing Aircraft. After a couple years I was laid off and I began working at several auto dealerships in Wichita and last at the Ford dealership in Derby, Kansas.
Feeling like I could never be happy unless I was self-employed I found a building to rent in Derby at K-15 and 71st Street South. I brought to Derby the equipment from Yates Center and I started my own place when I was 23.
I lasted there till 1976 when a helper of mine created a huge gas leak that spilled out onto the floor and a small spark caused it to ignite from picking up exhaust pipe tubing. The building was ruined so I was out of business till May of 1977 when I built a new building at my present location. I have been at 200 West Washington in Derby since then.
During this time I always thought that Pontiac's engine had a lot of unique ideas that impressed me and so in 1971 I started drag racing a 1958 Pontiac. We still have that same car, but my wife now campaigns it and I now have a 1959 Pontiac.
We both race at the same events and we haul both cars in a 48 ft enclosed trailer to the races. So after more than 35 years of racing Pontiacs I've gained quite a reputation of knowing how to make Pontiacs run. In this same period we have kept up on the latest improvements and equipment necessary to work on modern fuel injection computer-controlled cars.
I'm a Certified Master ASE Technician with LT-1 certification for Advanced drive ability. We can repair almost any mechanical problem with all brands except European and Diesel engines.
Mike Pierson has worked for me since 2003 and has more than 20 years experience. He carries certification with ASE in five areas of expertise. He will soon be passing his tests to make him a Master Technician also.
We specialize in rear differential work, A/C and performance Pontiac engines, yet we do alignments or electrical and can correct most any problem when needed.